Les coiffures tendances - Eté 2023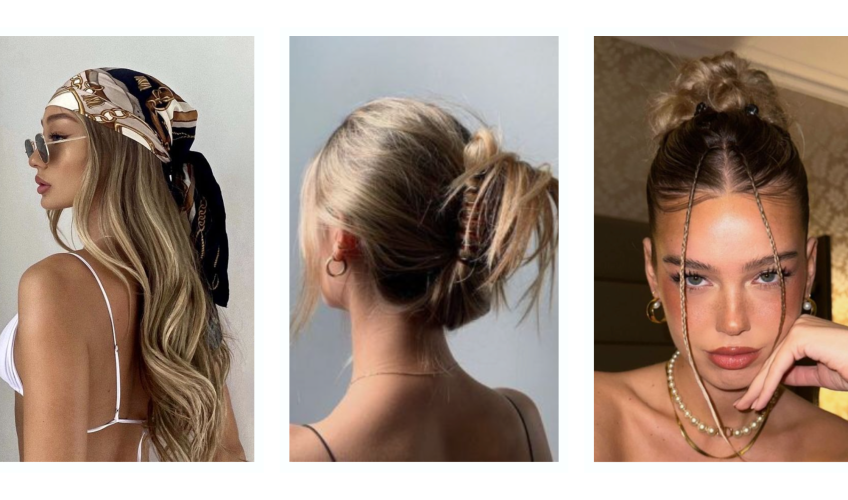 - Clean Girl Look
Tout droit sortie d'Instagram, le clean girl look a été inspiré par Hailey Bieber, le résultat rend un effet "belle au naturel" avec un chignon, une natte, ou encore une queue de cheval bien tirée en arrière parfait pour cet été.
- Cute Girl Look
C'est la nouvelle tendance de l'été 2023 : le cute girl look. Cette coupe se présente avec des nattes sur les deux mèche de devant qui retombent sur le visage, ou avec les bubble tresses sur les cotés.
- Be That Girl Look
Une coiffure tendance cet été : attacher ses cheveux avec une grosse pince.
Elle offre à la fois style et praticité, permettant de maintenir les cheveux en place tout en ajoutant une touche d'élégance. Les pinces larges et décoratives sont particulièrement en vogue. Elles sont souvent ornées de motifs, de perles, de strass ou de couleurs vives.
- Le bandeau/bandana Look
La nouvelle mode coiffure de l'été 2023 c'est le bandeau/bandana. C'est une option très polyvalente qui peut être portée de différentes façons pour créer des looks variés, C'est une excellente façon d'accessoiriser vos cheveux tout en apportant une touche de fraîcheur à votre look estival.
Les premières adepte de cette coiffure sont Bella Hadid et Dua Lipa.