Interview Yannick Kraemer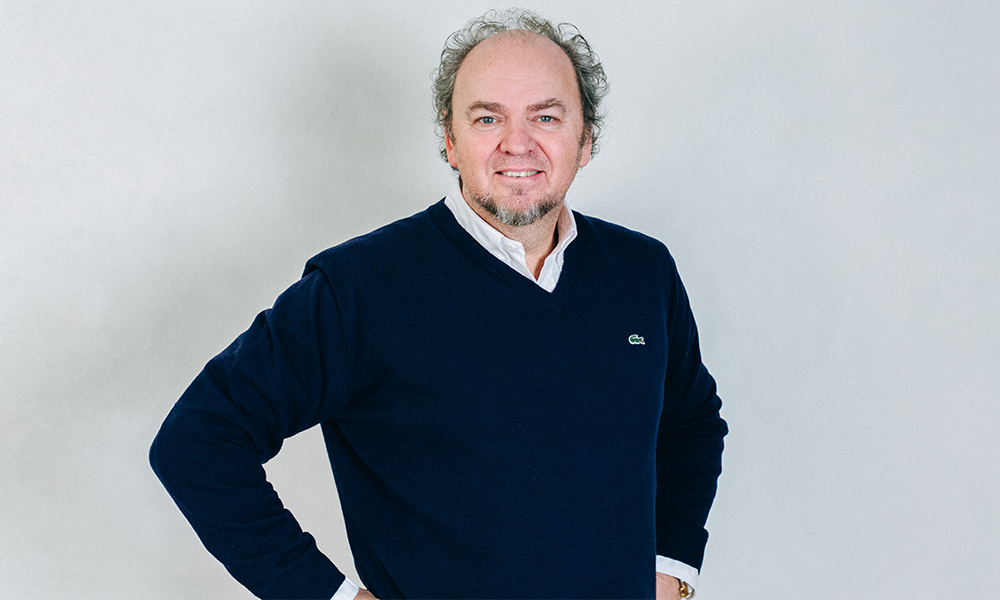 Yannick Kraemer tells us what led him to hairdressing when he was only a teenager, and how he built the Luis Kraemer brand, introducing us to his philosophy.
Yannick, you made a very early debut in hairdressing, has it always been a passion for you ?
Definitely not. I indeed started my career very early, when I was 15, but it was no personal choice. I was an average pupil and as I had expressed the desire to specialize in hairdressing,and the school counselors orientated me towards apprenticeship. You must keep in mind that at that time, school counselors would very often do so, all the more if you lived in the country. And it's true that my father owned a salon in Hatten, close to Wissembourg, in the North of Alsace, and it seemed fairly logical that my destiny was to succeed him in the family business. As I was quite well educated, I became a hairdresser too. I actually really thought it was a pleasant and easy job, so when my father asked me I just said "Ok I'll do it".
Passion came later...
Nowadays, I meet young people with a real vocation, but it was not my case. As an apprentice, I was trained by a very dedicated master, and he transmitted me his sense of a job well done. What slowly hooked me was the contact with the customers. I took great pleasure in pampering them, making them happy. It was very fulfilling... I graduated in 1977-1978. I felt like making new professional experiments before my military service, and I started to work in a concrete manufacture. I keep good memories of this period of time. Some of my colleagues were ex-schoolmates. The work was exhausting, I liked it though, but I felt that this was not for me, physically speaking. My bosses noticed that I was not really done for the job. They questioned me about my initial training, and this is how I started to cut my boss's hair, and then the foreman's...
Following that I did my military service in the Montauban Parachuting Unit. It was really funny, because most people feel a bit stressed before they take a plane for the first time, and my first time was pretty rough: once at the right altitude, the door opened and I was asked to jump ! After the army, I went back home with the intention of working in the family business. But my father had ambitions for me. He wanted me to go to Paris or to Strasbourg to complete my training. I had ambitions of my own: I had a vision of an oasis dedicated to women's wellness, with a hammam, massages, beauty cares of all types...

My father , who had strong opinions, managed to convince me that I would make my dreams come true with a little more experience. He got me an assistant job in Jacques Dessanges', so I started with Tony, in Strasbourg. He was one of the first to understand the interest of the franchising system. He's really influenced me till now. At that time I felt confident in my skills and I knew what I was capable of. Tony would often take me to Paris and he would introduce me to passionate professionals, with whom I got on well.
The hairstyling industry was at a turning point at that time...
I opened my first salon in 1987, it was a very intense period with the beginning of the hairdressing franchises. In the early 80ies, there were only two franchisers in France : Jacques Dessange and Jean-Louis David. Mr Dessange often said me « There's only room for two franchisers in France ! » : I naively believed him and I must admit it made me lose a lot of time. However I was very happy to work for this brand. I felt a lot of satisfaction, passion and happiness, and I opened about 15 salons for them...
At Dessange's, you met an influential character...
Yes, Bruno Pettini had been Jacques Dessange's Artitistic Director for a long time. His great professionalism and creativity gave him an exceptional aura. He was a great teacher, and he became the mentor of numerous young professionals to whom he opened the way. We are many to miss him now, and nobody will replace him. He managed to convince me that my profession was the most beautiful in the world. By comparison with my half-hearted debuts in this career, I felt blessed to be able to reach this state of mind. It was a very exciting period for me, my ambitions grew stronger.
The duet formed by Jacques Dessange and Bruno Pettini was most inspirational : Bruno brought both his sensitivity and creativity whereas Monsieur Dessange was a real down-to-earth businessman, a very realistic and pragmatic man who was a great project manager. Their team had at the same time the artistic and commercial aspects that made the success of the Dessange brand. They enabled hundreds of hairdressers, inside their franchisee's network (and I was one of them) to be part of this success.
However, you felt like emancipating yourself ...
Bruno passed away too early in 1994, at the age of 45. I only started my very own business in 2000, but it is very clear that both events are linked. It seemed to me that the brand, without Bruno, had lost the balance between creativity and materialism. I stayed for a couple of years and things could have gone on like that, because it made sense in some way, but I finally realized that I did no longer agree with the values of the brand. I was almost 40 and I had lost the spark I once had.
In spite of the financial risks, I had to make a move. Finding your way in life is not easy. It was a hard time for me, both morally and psychologically. I was afraid of leaving the Dessange group. Fortunately, all my apprehensions disappeared when I had to use my creativity, gather a team and create a new brand. It was so satisfactory to master the whole process. With this new challenge, I found a new balance and new satisfactions.
You layed the foundations for your future concept...
Every project has three targets : clients, co-workers, and future partners. My first challenge was to make my concepts come real, and to meet my clients demands. The idea of reproducing endlessly the same simplistic stereotypes, in France or abroad, seemed depressing to me, wether it was in the field of equipment, hotels, restaurants, or of course hairdressing salons. This global standardization produces places and people that all look alike ! As a reaction to that, I really worked on creating quality standards but also on leaving space for the franchisee's personal expression. Every franchisee is invited to bring their touch to the Luis Kraemer's concept, in order to create a personal space where they can express their own tastes and creativity. I set the quality standards but my co-workers and franchisees are free to express themselves.
A very exciting opportunity...
In most of the franchising systems, everything is centralised, and franchisees merely do what they're told to. This is the reason why it's so important to me that every partner can be part of the creative and commercial development of the group.
This is a dramatically new way of considering the franchiser-franchisee relation.
It is certainly a plus. But at the same time, we keep and develop what's good about the franchisins system : belonging to a group, defending common interests with a common identity. On bénéficie d'une communication et d'un marketing qui ont été pensés à plusieurs. Our communication and marketing strategies are the result of a collaboration. Our keystone is professional training. People like Laure Mentré and Jean-Claude Lebeau, artistic directors at LK, transmit their technical skills during training periods.The brand's image is based on these skills and this touch.
You try to resist global standardization...
Yes I do and I'm convined I'm right. Fortunately mentalities are changing. Our concept seems to find an echo. This is why I humbly resist in ordre to offer something different. I like the idea of giving haidressing its initial vocation back by creating places dedicated to relaxation, soothing salons with exotic and uniques pieces of deco, by offering a range of services that lead my customers to a world of pleasures and daydream...
An interview by Emmanuel Abela